Expert Cisco Meraki Support and Networking Solutions
Expert Cisco Meraki Support and Networking Solutions
Cisco offers product perfectly tailored for your business.
San Diego IT Support, your trusted partner for all your networking and IT infrastructure needs. We specialize in providing comprehensive Cisco Meraki support, along with a wide range of solutions including Cisco Meraki support, switches, routers, firewall, Wi-Fi, mesh. At San Diego IT Support, we understand the importance of a reliable and secure network for the smooth operation of your business. That's why we offer top-notch Cisco Meraki support services. Cisco Meraki is a cutting-edge networking solution that combines simplicity, scalability, and advanced features to deliver exceptional performance. With our expertise in Cisco Meraki, we ensure that your network is optimized for maximum efficiency, security, and flexibility.
Our team of highly skilled professionals is experienced in configuring, deploying, and managing Cisco Meraki devices. Whether you need assistance with setting up a new network, troubleshooting issues, or optimizing your existing infrastructure, we have you covered. We work closely with you to understand your unique requirements and tailor our solutions to meet your specific needs.
In addition to Cisco Meraki support, we offer a wide range of networking products including switches, routers, and firewalls. Our team has in-depth knowledge of the latest networking technologies and can assist you in selecting the right equipment that aligns with your business goals. We ensure seamless integration of these devices into your network, enabling you to achieve superior performance and reliability.
Wireless connectivity is essential in today's digital landscape, and our Wi-Fi solutions are designed to provide fast, secure, and uninterrupted wireless access. We implement robust Wi-Fi networks that can handle high user densities and support a wide range of applications. Whether you need to upgrade your existing Wi-Fi infrastructure or deploy a new network, we have the expertise to deliver seamless connectivity throughout your organization.
Mesh networking is another area where we excel. Mesh networks offer expanded coverage and enhanced reliability by creating a self-healing network topology. Our mesh services provide a scalable and resilient network infrastructure that ensures consistent connectivity across your premises. We analyze your environment, design an optimal mesh network layout, and deploy the necessary hardware and software components to deliver a seamless experience.
Components of mesh networks: Access points in mesh networks can either be repeaters or gateways.
Gateways: Gateway access points have an uplink to the Internet since they are directly connected to the wired network. When a gateway loses Internet access, it will immediately switch to operating as a repeater while still maintaining active wireless client connections.
When a device boots and sends out a DHCP request, Meraki determines whether it should be a repeater or a gateway. It assumes it has a functioning LAN connection and will turn into a gateway AP if it receives a DHCP reply from a connected network device. A gateway AP will switch to repeater mode if it is unable to connect to the LAN gateway/upstream router.
Repeaters: Repeater access points rely on wireless mesh links rather than a conventional network connection to connect to the Internet. The repeater will create a mesh link as long as it is powered on and has a reliable (unhindered, line-of-sight) wireless connection to another repeater or gateway.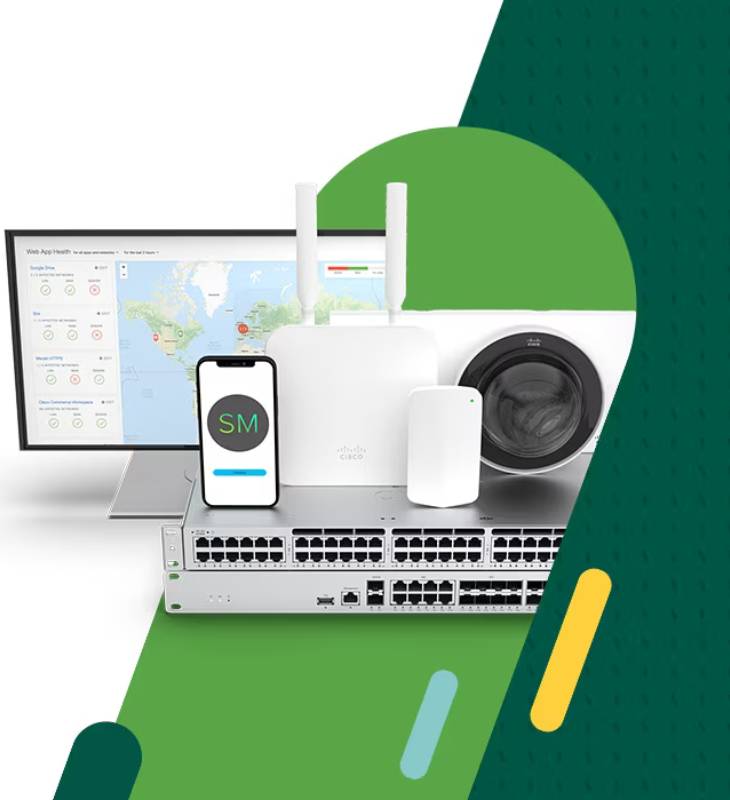 We Are The Best In The Market
With San Diego IT Support, you can expect more than just reliable networking solutions. We pride ourselves on offering comprehensive services that go beyond initial setup and deployment. Our team is committed to providing ongoing support, maintenance, and proactive monitoring to ensure your network operates at peak performance around the clock.
Our Cisco Meraki support services cover the entire lifecycle of your network infrastructure. From initial design and implementation to ongoing management and troubleshooting, we are here to assist you every step of the way. Our certified experts possess extensive knowledge of Cisco Meraki products and keep up-to-date with the latest advancements in networking technology.
When you choose San Diego IT Support, you benefit from
We are dedicated to delivering reliable, efficient, and secure networking solutions that empower your business to thrive in the digital age. Trust us to be your partner in all your IT infrastructure needs. Contact us today to learn more about how we can support your business and take your network to the next level.
At San Diego IT Support, we prioritize customer satisfaction and strive to provide exceptional service at every step. Our team is available round the clock to address any issues or concerns you may have. We believe in building long-term relationships with our clients, based on trust, reliability, and outstanding support.
Take your business to new heights with San Diego IT Support. Contact us today to discuss your networking and IT infrastructure requirements, and let us tailor a solution that exceeds your expectations.