CISCO MERAKI Support San Diego
Do you need Cisco/Meraki Support for Routers and Switches? If your answer is yes, then we can provide you with the support you need for your equipment. Every business aims to enhance its efficiency and productivity. To do so, it's important to have strong IT Support that can take care of any technical issues that occur. If you are experiencing problems with CISCO/Meraki switching, routers, and firewalls, then San Diego IT Support can help you out. Our team comprises of CISCO/Meraki certified engineers and we have been offering reliable and authentic IT Support solutions since 2003 in San Diego County. If you are looking for IT support for your CISCO/Meraki equipment, then we can help you out. We understand how IT equipment requires 24/7 support, maintenance, management, and updates in order to be up and running 100% of the time. Our engineers are well trained in supporting and maintaining Cisco/Meraki Routers, Switches, and Firewalls. We specialize in networking and Cisco/Meraki equipment and our IT Support and Consulting services are available for all in San Diego County, the State of California, and the rest of the USA. Here at San Diego IT Support, we also specialize in networking and Cisco/Meraki equipment. We are the best choice for all your network requirements and can provide assistance with managing WAN, LAN, and Wireless networks, along with solutions for Security, Switching, Routing, and much more. You can reach out to us by calling us and one of our engineers will be able to guide you on which networking solution is best suited for your business.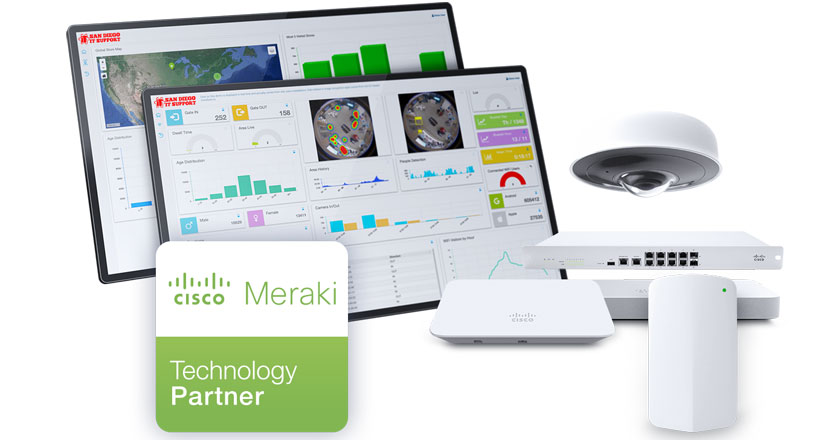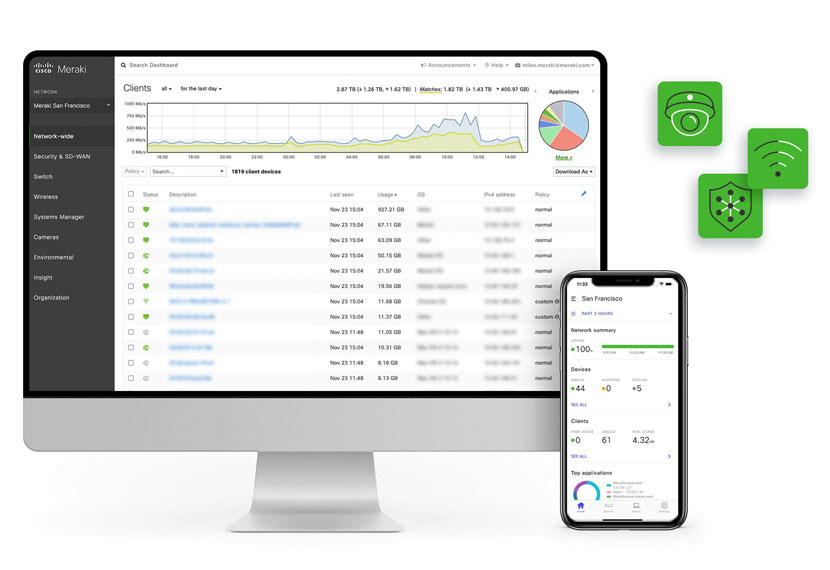 San Diego IT Support Provides Cloud Networking Services
We also provide cloud networking solutions and are market leaders, serving customers from all over the world. Our managed wireless security and switching solutions are widely known for their efficiency. Our networking services help connect millions of devices across the world and we have established long-term relationships with all our customers making sure they choose our services over other IT support providers. Some of the products we provide include:
You can choose which products suit your requirements and complement your business needs.
San Diego IT Support Provides System Management Services For Large and Small Enterprises
Many businesses are unaware which system management services are most suitable for them. At San Diego IT Support, we can evaluate your system management needs and provide high-quality system management services that perfectly suit your business goals. Some of the professional system management services we provide include:
Our 360-degree IT support services make us the go-to choice for all your IT-related needs. You can rely on us to take care of all your technical issues and help you run your business smoothly.
San Diego IT Support Provides Cloud Managed Communications And Cisco/Meraki Services
Our cloud-managed communications include the following features:
San Diego IT Support offers professional IT solutions to customers across the globe. If you are looking for IT support services that enhance the performance of your business, then get in touch with us today and explore the best IT solutions for your company.